How do I see how many of an ASIN I have in stock in the FBA wharehouse on AZInsight?
AZInsight can show you how much stock of an ASIN you have in inventory. This information is populated on the calculator screen as shown in the screenshot below.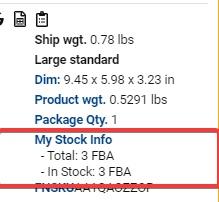 For this feature to work on your account you must use the
Amazon integration on the asinzen web portal.

This feature uses the Amazon API. No other information regarding your inventory is read other than FNSKU, total, and number in stock. We do not store information on asinzen servers about your stock quantity. Transmission of the data is handled securely over an encrypted server.